Product Summary
The 1N4001 is a plastic silicon rectifier, voltage - 50 to 1000 volts current - 1.0 Ampere.
Parametrics
1N4001 absolute maximum ratings: (1)Maximum Average Forward Rectified Current .375"(9.5mm)Lead Length at TA=75 ℃: 1.0 A; (2)Peak Forward Surge Current 8.3ms single half sine-wave superimposed on rated load(JEDEC method): 30 A; (3)Maximum Forward Voltage at 1.0A DC and 25 ℃: 1.1 V; (4)Maximum Full Load Reverse Current Full Cycle Average at 75 ℃ Ambient: 30 A; (5)Maximum Reverse Current at TA=25 ℃: 5.0 g A; (6)At Rated DC Blocking Voltage TA=100 ℃: 500 A; (7)Typical Junction capacitance: 15 PF; (8)Typical Thermal Resistance R KJA: 50 ℃J /W; (9)Typical Thermal resistance R K JL: 25 ℃J /W; (10)Operating and Storage Temperature Range TJ,TSTG: -55 to +150℃.

Features
1N4001 features: (1)Low forward voltage drop; (2)High current capability; (3)High reliability; (4)High surge current capability; (5)Exceeds environmentastandards of MIL-S-19500/228.

Diagrams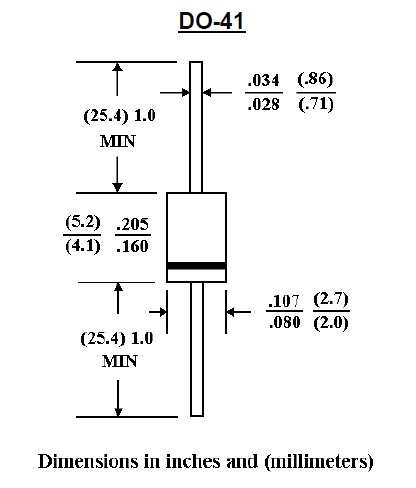 Image
Part No
Mfg
Description
Pricing
(USD)
Quantity

1N4001

Fairchild Semiconductor

Rectifiers Vr/50V Io/1A T/R

Data Sheet



| | |
| --- | --- |
| 0-1: | $0.05 |
| 1-25: | $0.04 |
| 25-100: | $0.04 |
| 100-250: | $0.02 |


1N4001 - 1N4007

Other



Data Sheet

Negotiable

1N4001- - M1

Other



Data Sheet

Negotiable

1N4001 thru 1N4007

Other



Data Sheet

Negotiable

1N4001/1

Vishay Semiconductors

Rectifiers Vr/50V Io/1A BULK

Data Sheet

Negotiable

1N4001/4

Vishay Semiconductors

Rectifiers Vr/50V Io/1A T/R

Data Sheet

Negotiable

1N4001/54



RECTIFIER 1 AMP 50V DO-41

Data Sheet

Negotiable

1N4001/L

Other



Data Sheet

Negotiable