Product Summary
The MC34063ADR2G is a monolithic control circuit containing the primary functions required for DC–to–DC converters. It consists of an internal temperature compensated reference, comparator, controlled duty cycle oscillator with an active current limit circuit, driver and high current output switch. The MC34063ADR2G was specifically designed to be incorporated in Step–Down and Step–Up and Voltage–Inverting applications with a minimum number of external components. Refer to Application Notes AN920A/D and AN954/D for additional design information.
Parametrics
MC34063ADR2G absolute maximum ratings: (1)Power Supply Voltage: 40 Vdc; (2)Comparator Input Voltage Range: –0.3 to +40 Vdc; (3)Switch Collector Voltage: 40 Vdc; (4)Switch Emitter Voltage (VPin 1 = 40 V): 40 Vdc; (5)Switch Collector to Emitter Voltage: 40 Vdc; (6)Driver Collector Voltage: 40 Vdc; (7)Driver Collector Current: 100 mA; (8)Switch Current: 1.5 A; (9)Power Dissipation and Thermal Characteristics: Plastic Package, P, P1 Suffix, TA = 25℃: 1.25 W, Thermal Resistance: 100 ℃/W, SOIC Package, D Suffix, TA = 25℃: 625 W, Thermal Resistance: 160 ℃/W; (10)Operating Junction Temperature: +150 ℃; (11)Operating Ambient Temperature Range: 0 to +70 ℃; (12)Storage Temperature Range: –65 to +150 ℃.
Features
MC34063ADR2G features: (1)Operation from 3.0 V to 40 V Input; (2)Low Standby Current; (3)Current Limiting; (4)Output Switch Current to 1.5 A; (5)Output Voltage Adjustable; (6)Frequency Operation to 100 kHz; (7)Precision 2% Reference.
Diagrams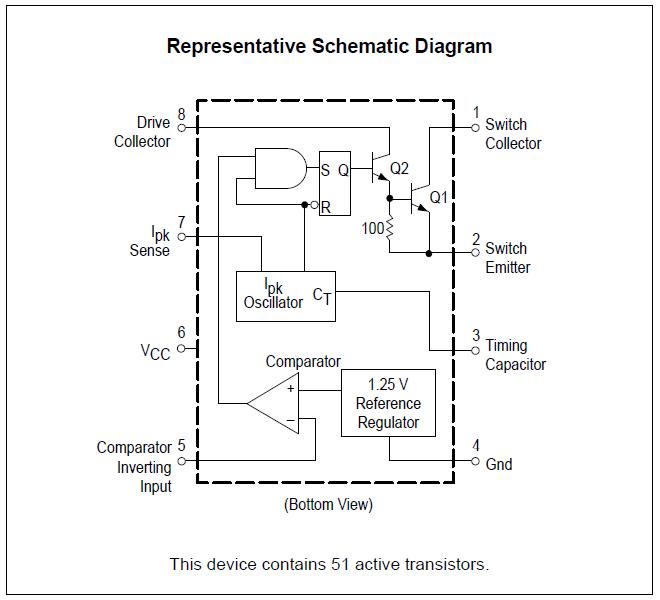 Image
Part No
Mfg
Description
Pricing
(USD)
Quantity

MC34063ADR2G

ON Semiconductor

Switching Converters, Regulators & Controllers 40V 1.5A Buck/Boost/Inverting

Data Sheet



| | |
| --- | --- |
| 0-1: | $0.32 |
| 1-25: | $0.29 |
| 25-100: | $0.25 |
| 100-250: | $0.22 |

Image
Part No
Mfg
Description
Pricing
(USD)
Quantity

MC34001

Other



Data Sheet

Negotiable

MC34002

Other



Data Sheet

Negotiable

MC34002D

STMicroelectronics

Operational Amplifiers - Op Amps USE 511-TL072CD SO-8 DUAL OP AMP

Data Sheet

Negotiable

MC34002N

STMicroelectronics

Operational Amplifiers - Op Amps USE 511-TL072CN DIP-8 DUAL OP AMP

Data Sheet

Negotiable

MC34004

Other



Data Sheet

Negotiable

MC34011A

Other



Data Sheet

Negotiable