Product Summary
The CDCVF2505D is a high-performance, low-skew, low-jitter, phase-lock loop (PLL) clock driver. It uses a PLL to precisely align, in both frequency and phase, the output clocks (1Y[0−3] and CLKOUT) to the input clock signal (CLKIN). The CDCVF2505D operates at 3.3 V. It also provides integrated series-damping resistors that make it ideal for driving point-to-point loads.
Parametrics
CDCVF2505D absolute maximum ratings: (1)Supply voltage range, VDD: -0.5 V to 4.3 V; (2)Input voltage range, VI (see Notes 1 and 2): -0.5 V to VDD + 0.5 V; (3)Output voltage range, VO (see Notes 1 and 2): -0.5 V to VDD + 0.5 V; (4)Input clamp current, IIK (VI < 0 or VI > VDD): ±50 mA; (5)Output clamp current, IOK (VO < 0 or VO > VDD): ±50 mA; (6)Continuous total output current, IO (VO = 0 to VDD): ±50 mA; (7)Storage temperature range, Tstg: -65°C to 150°C.
Features
CDCVF2505D features: (1)Phase-Lock Loop Clock Driver for Synchronous DRAM and General-Purpose Applications; (2)Spread Spectrum Clock Compatible; (3)Operating Frequency: 24 MHz to 200 MHz; (4)Low Jitter (Cycle-cycle): <|150 ps| Over the Range 66 MHz?200 MHz; (5)Distributes One Clock Input to One Bank of Five Outputs (CLKOUT Is Used to Tune the Input-Output Delay); (6)Three-States Outputs When There Is no Input Clock; (7)Operates From Single 3.3-V Supply; (8)Available in 8-Pin TSSOP and 8-Pin SOIC Packages; (9)Consumes Less Than 100 μA (Typically) in Power Down Mode; (10)Internal Feedback Loop Is Used to Synchronize the Outputs to the Input Clock; (11)25-Ω On-Chip Series Damping Resistors; (12)Integrated RC PLL Loop Filter Eliminates the Need for External Components.
Diagrams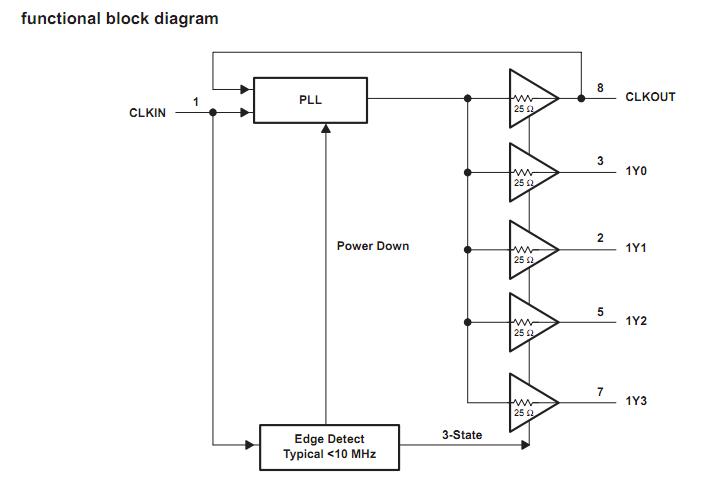 Image
Part No
Mfg
Description
Pricing
(USD)
Quantity

CDCVF2505D

Texas Instruments

Clock Drivers & Distribution 3.3V PLL Clock

Data Sheet



| | |
| --- | --- |
| 0-1: | $1.50 |
| 1-25: | $1.38 |
| 25-100: | $1.09 |
| 100-250: | $1.03 |


CDCVF2505DG4

Texas Instruments

Clock Drivers & Distribution PLL Clock Driver

Data Sheet



| | |
| --- | --- |
| 0-1: | $1.48 |
| 1-25: | $1.24 |
| 25-100: | $1.07 |
| 100-250: | $0.91 |


CDCVF2505DR

Texas Instruments

Clock Drivers & Distribution PLL Clock Driver

Data Sheet



| | |
| --- | --- |
| 0-1790: | $0.67 |
| 1790-2000: | $0.64 |
| 2000-2500: | $0.64 |
| 2500-5000: | $0.61 |


CDCVF2505DRG4

Texas Instruments

Clock Drivers & Distribution PLL Clock Driver

Data Sheet



| | |
| --- | --- |
| 0-1790: | $0.67 |
| 1790-2000: | $0.64 |
| 2000-2500: | $0.64 |
| 2500-5000: | $0.61 |