Product Summary
The SA575DR2G is a precision dual gain control circuit designed for low voltage applications. The SA575DR2G's channel 1 is an expandor, while channel 2 can be configured either for expandor, compressor, or automatic level controller (ALC) application. The applications of the SA575DR2G are (1)Portable Communications; (2)Cellular Radio; (3)Cordless Telephone; (4)Consumer Audio; (5)Portable Broadcast Mixers; (6)Wireless Microphones; (7)Modems; (8)Electric Organs; (9)Hearing Aids.
Parametrics
SA575DR2G absolute maximum ratings: (1)Single Supply Voltage, VCC: -0.3 to 8.0 V; (2)Voltage Applied to Any Other Pin, VIN: -0.3 to (VCC + 0.3) V; (3)Operating Ambient Temperature Range, TA: -40 to +85 °C; (4)Operating Junction Temperature, TJ: 150 °C; (5)Storage Temperature Range, TSTG: 150 °C.
Features
SA575DR2G features: (1)Operating Voltage Range from 3.0 V to 7.0 V; (2)Reference Voltage of 100 mVRMS = 0 dB; (3)One Dedicated Summing Op Amp Per Channel and Two Extra Uncommitted Op Amps; (4)600Ω Drive Capability; (5)Single or Split Supply Operation; (6)Wide Input/Output Swing Capability; (7)Pb Free Packages are Available.
Diagrams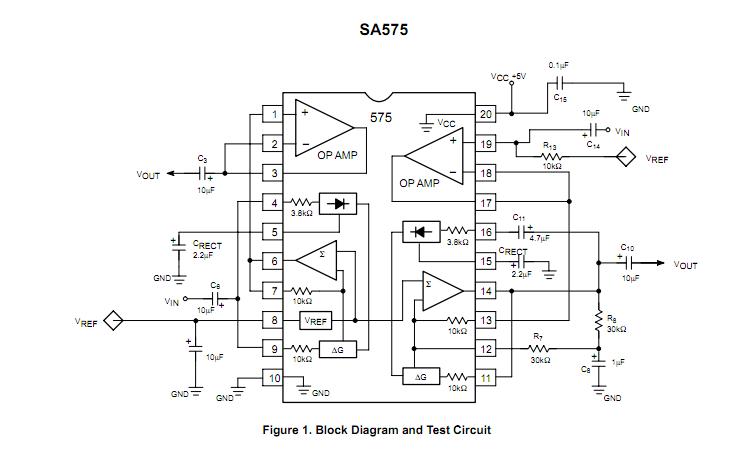 Image
Part No
Mfg
Description
Pricing
(USD)
Quantity

SA575DR2G

ON Semiconductor

Audio Amplifiers 3-7V Precision Dual Gain Compandor

Data Sheet



| | |
| --- | --- |
| 0-650: | $2.50 |
| 650-1000: | $2.18 |
| 1000-2000: | $2.09 |

Image
Part No
Mfg
Description
Pricing
(USD)
Quantity

SA57

Other



Data Sheet

Negotiable

SA57000-30D,115

NXP Semiconductors

Low Dropout (LDO) Regulators CAPFREE LDO 150MA LOW NOISE

Data Sheet

Negotiable

SA57000-XX

Other



Data Sheet

Negotiable

SA57001-XX

Other



Data Sheet

Negotiable

SA571NG

ON Semiconductor

Audio Amplifiers Dual Gain Compandor Industrial Temp

Data Sheet



| | |
| --- | --- |
| 0-1: | $3.28 |
| 1-25: | $2.77 |
| 25-100: | $2.15 |
| 100-500: | $1.78 |


SA571DG

ON Semiconductor

Audio Amplifiers Dual Gain Compandor Industrial Temp

Data Sheet



| | |
| --- | --- |
| 0-1: | $3.36 |
| 1-25: | $2.70 |
| 25-100: | $2.45 |
| 100-500: | $1.99 |