Product Summary
The ADSP-2181BSTZ-133 is a single-chip microcomputer optimized for digital signal processing (DSP) and other high speed numeric processing applications. The ADSP-2181BSTZ-133 integrates 80K bytes of on-chip memory configured as 16K words (24-bit) of program RAM, and 16K words (16-bit) of data RAM. Power-down circuitry is also provided to meet the low power needs of battery operated portable equipment. The ADSP-2181BSTZ-133 is available in 128-lead TQFP packages.
Parametrics
ADSP-2181BSTZ-133 absolute maximum ratings: (1)Supply Voltage:-0.3 to +7V; (2)Input Voltage:–0.3 V to VDD + 0.3 V; (3)Output Voltage Swing:–0.3 V to VDD + 0.3 V; (4)Operating Temperature Range (Ambient):-40℃ to +85℃; (5)Storage Temperature Range:–65℃ to +150℃; (6)Lead Temperature(5 sec):+280℃.
Features
ADSP-2181BSTZ-133 features: (1)25 ns Instruction Cycle Time from 20 MHz Crystal @ 5.0 Volts; (2)40 MIPS Sustained Performance; (3)Single-Cycle Instruction Execution; (4)Single-Cycle Context Switch; (5)3-Bus Architecture Allows Dual Operand Fetches in Every Instruction Cycle; (6)Multifunction Instructions: Power-Down Mode Featuring Low CMOS Standby, Power Dissipation with 100 Cycle Recovery from Power-Down Condition; (7)Low Power Dissipation in Idle Mode; (8)ADSP-2100 Family Code Compatible, with Instruction Set Extensions; (9)80K Bytes of On-Chip RAM, Configured as 16K Words On-Chip Program Memory RAM, 16K Words On-Chip Data Memory RAM; (10)Dual Purpose Program Memory for Both Instruction and Data Storage; (11)Independent ALU, Multiplier/Accumulator, and Barrel Shifter Computational Units; (12)Two Independent Data Address Generators; (13)Powerful Program Sequencer Provides; (14)Programmable 16-Bit Interval Timer with Prescaler 128-Lead TQFP.
Diagrams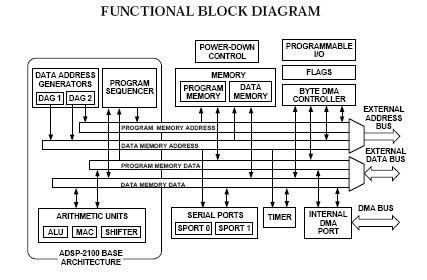 Image
Part No
Mfg
Description
Pricing
(USD)
Quantity

ADSP-2181BSTZ-133



IC DSP CONTROLLER 16BIT 128TQFP

Data Sheet



| | |
| --- | --- |
| 0-1: | $28.62 |
| 1-10: | $26.76 |
| 10-100: | $23.21 |
| 100-250: | $21.66 |
| 250-500: | $20.63 |

Image
Part No
Mfg
Description
Pricing
(USD)
Quantity

ADSP-2100

Other



Data Sheet

Negotiable

ADSP-2101BG-100



IC DSP CONTROLLER 16BIT 68PGA

Data Sheet



ADSP-2101BGZ-100

Analog Devices Inc

IC DSP 16BIT CTRL 25MHZ 68-PGA

Data Sheet

Negotiable

ADSP-2101BP-100



IC DSP CONTROLLER 16BIT 68PLCC

Data Sheet



ADSP-2101BPZ-100



IC DSP SLG 16BIT 25MHZ 68-PLCC

Data Sheet



| | |
| --- | --- |
| 0-1: | $31.64 |
| 1-10: | $29.78 |
| 10-100: | $26.62 |
| 100-250: | $25.13 |
| 250-500: | $24.82 |


ADSP-2101BS-100

Analog Devices Inc

IC DSP CONTROLLER 16BIT 80PQFP

Data Sheet

Negotiable