Product Summary
The STM32F103ZET6 is a ARM processor for embedded systems. The STM32F103ZET6 has been developed to provide a low-cost platform that meets the needs of MCU implementation, with a reduced pin count and low-power consumption, while delivering outstanding computational performance and an advanced system response to interrupts.
Parametrics
STM32F103ZET6 absolute maximum ratings: (1)VDd-VSS, External main supply voltage (including VDDA; (2)and VDD): -0.3 to 4.0V; (3)VIN, Input voltage on five volt tolerant pin: VSS-0.3 to +0.5V; input voltage on any other pin: VSS-0.3 to VDD+0.3V; (4)|△VDDx|, variantions between different VDD power pins: 50mV max; (5)|VSSX-VSS|, variantions between all the different ground pins: 50mV max.
Features
STM32F103ZET6 features: (1)core: ARM 32-bit cortex-M3 CPU; (2)Clock, reset and supply management; (3)Low power; (4)Up to 112 fast I/O ports; (5)Up to 11 timers; (6)Up to 13 communication interfaces.
Diagrams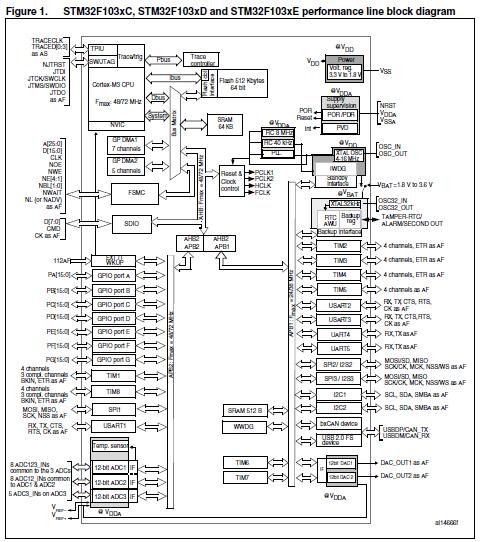 Image
Part No
Mfg
Description
Pricing
(USD)
Quantity

STM32F103ZET6

STMicroelectronics

ARM Microcontrollers (MCU) 32BIT Cortex M3 Performance LINE

Data Sheet



| | |
| --- | --- |
| 0-1: | $6.89 |
| 1-10: | $6.26 |
| 10-100: | $5.32 |
| 100-250: | $4.85 |


STM32F103ZET6TR

STMicroelectronics

ARM Microcontrollers (MCU) 32BIT Cortex M3 High-density

Data Sheet



| | |
| --- | --- |
| 0-323: | $4.85 |
| 323-500: | $4.54 |
| 500-1000: | $4.16 |