Product Summary
The TLP621-2 is a programmable controller, which consists of a phototransistor optically coupled to a gallium arsenide infrared emitting diode. The TLP621-2 offers two isolated channels in an eight lead plastic DIP, which the TLP6214 provides four isolated channels in a sixteen plastic DIP.
Parametrics
TLP621-2 absolute maximum ratings: (1)Forward current : 50 mA; (2)Forward current derating: 0.5(Ta≥39℃) mA/℃ ; (3)Pulse forward current: 1(100s pulse,100pps); (4)Power dissipation: 100 mW; (5)Power dissipation derating: -1.0 mW/℃; (6)Reverse voltage: 5 V; (7)Junction temperature: 125 ℃; (8)Collectoremitter voltage: 150 mW; (9)Emittercollector voltage: -1.5 mW/℃; (10)Junction temperature: 125 ℃ ; (11)Storage temperature range: -55 to 125 ℃; (12)Operating temperature range: -55 to 100 ℃; (13)Lead soldering temperature: 250 ℃.
Features
TLP621-2 features: (1)Collectoremitter voltage: 55 V (min.) ; (2)Current transfer ratio: 50% (min.), Rank GB: 100% (min.).
Diagrams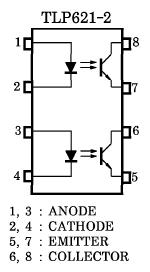 Image
Part No
Mfg
Description
Pricing
(USD)
Quantity

TLP621-2

Toshiba

Transistor Output Optocouplers 55Vceo 5000Vrms 2 Channels

Data Sheet

Negotiable

TLP621-2(F,T)

Toshiba

Transistor Output Optocouplers X36 Pb-F PHOTOCOUPLR

Data Sheet



| | |
| --- | --- |
| 0-1550: | $0.21 |
| 1550-2000: | $0.20 |
| 2000-5000: | $0.20 |
| 5000-10000: | $0.20 |


TLP621-2(GB)



PHOTOCOUPLER DUAL TRANS-OUT 8DIP

Data Sheet

Negotiable

TLP621-2(GR,F,T)



PHOTOCOUPLER DUAL TRANS-OUT 8DIP

Data Sheet

Negotiable

TLP621-2(GR,T)



PHOTOCOUPLER DUAL TRANS-OUT 8DIP

Data Sheet

Negotiable

TLP621-2GRFT

Toshiba

Transistor Output Optocouplers X36 PHOTOCOUPLER

Data Sheet

Negotiable

TLP621-2(GB,F,T)

Toshiba

Transistor Output Optocouplers 55Vceo 5000Vrms 2 Channels

Data Sheet

Negotiable