Product Summary
The CY8C27243-24PVXI is a PSoC Programmable System-on-Chip. It is designed to replace multiple traditional microcontroller unit (MCU)-based system components with one, low-cost single-chip programmable device. The CY8C27243-24PVXI includes configurable blocks of analog and digital logic, as well as programmable interconnects. This architecture lets you to create customized peripheral configurations that match the requirements of each individual application.
Parametrics
CY8C27243-24PVXI absolute maximum ratings: (1)TSTG Storage temperature: –55 to +100 ℃; (2)TBAKETEMP Bake temperature: 125 ℃; (3)tBAKETIME Bake time: 72 Hours; (4)TA Ambient temperature with power applied: –40 to +85 ℃; (5)VDD Supply voltage on VDD relative to Vss: –0.5 to +6.0 V; (6)VIO DC input voltage: Vss – 0.5 to VDD + 0.5 V; (7)VIOZ DC voltage applied to tristate: Vss – 0.5 to VDD + 0.5 V; (8)IMIO Maximum current into any port pin: –25 to +50 mA; (9)IMAIO Maximum current into any port pin configured as; (10)analog driver: –50 to +50 mA; (11)ESD Electrostatic discharge voltage: 2000 V; (12)LU Latch-up current: 200 mA.
Features
CY8C27243-24PVXI features: (1)Powerful Harvard-architecture processor; (2)Advanced peripherals (PSoC blocks); (3)Precision, programmable clocking; (4)Flexible on-chip memory; (5)Programmable pin configurations; (6)Additional system resources; (7)Complete development tools.
Diagrams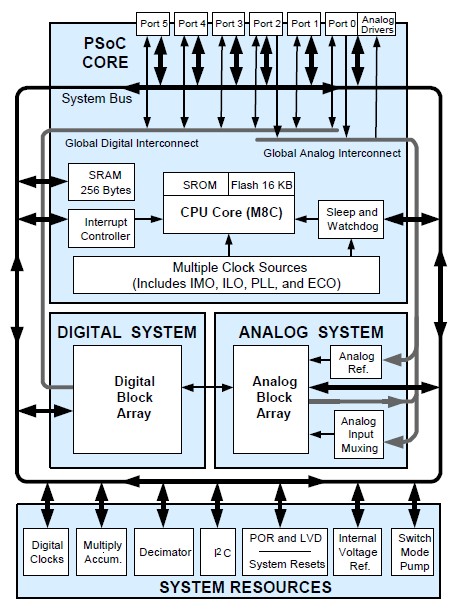 Image
Part No
Mfg
Description
Pricing
(USD)
Quantity

CY8C27243-24PVXI

Cypress Semiconductor

Programmable Systems-on-a-Chip (PSoC) IC MCU 16K FLSH 256B SRAM

Data Sheet



| | |
| --- | --- |
| 0-1: | $3.45 |
| 1-25: | $2.99 |
| 25-100: | $2.83 |
| 100-250: | $2.35 |


CY8C27243-24PVXIT

Cypress Semiconductor

Programmable Systems-on-a-Chip (PSoC) 16K FlSh 256B RAM IND

Data Sheet



| | |
| --- | --- |
| 0-1485: | $2.16 |
| 1485-2000: | $2.08 |